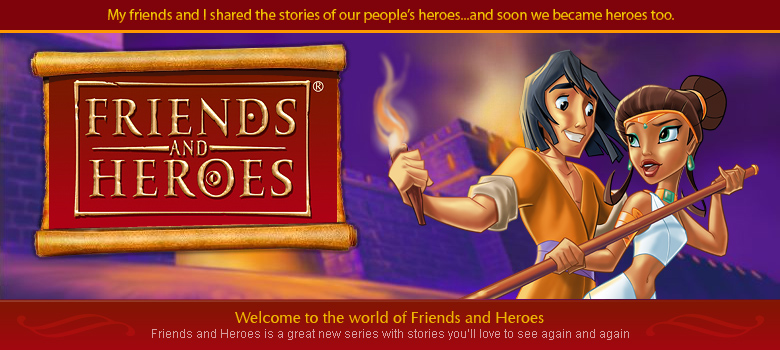 Friends and Heroes Bible Curriculum:
The Friends and Heroes DVD series is made up of 39 episodes which teach Godly character traits while entertaining children. The two episodes that I reviewed were titled Long Journey and A Friend in High Places. The episodes are each about 25 minutes long and are designed for children aged 5 to 11. The DVDs which contain at least two episodes and ten languages may be purchased individually for home use for only $19.99. Series Packs are also available. These packs contain 13 episodes plus a free public display license and 26 free downloadable lessons for either churches or Christian schools and can be purchased at their store for only $119.90.
Below are some of the main characters from Episode 1 and 2: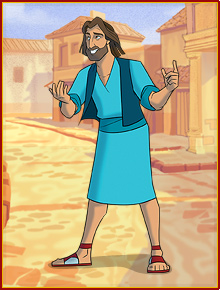 Samuel is one of the main characters in Episode 1 Friends and Heroes. He is Macky's father, a successful silversmith. He was born Jewish, but later joined the Friends of Jesus.
Since there are wars occurring in Jerusalem, the Romans are suspicious of nearly all the religious groups. Samuel and other Christians must exist in secret to avoid persecution. "When the Romans decide to try and break up the Friends of Jesus, Samuel is forced to make a difficult decision: should he sit back and enjoy the profits of his successful small business, or should he risk everything by working with the rebels, and helping the Friends?"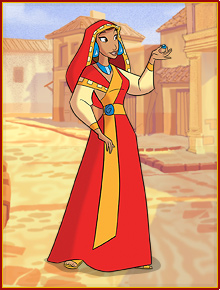 Diana is Macky's mother and a dressmaker.
Diana would have been satisfied with just taking care of her family but one day her husband Samuel and son Macky place her in a tough situation. She at first was reluctant but later because of her kindness she helps the rebel movement.

Leah, is 5 years old, sister of Rebecca, and daughter of Daniel, a brave rebel fighter in Galilee.
Her dad Daniel is a childhood friend of Samuel. When the fighting puts the lives of his two children at risk, Daniel sends Leah and Rebecca to live with Samuel's family. Because she is so young, Leah sometimes says more then she should. Her sister Rebecca is constantly asking her to stop talking. Leah is very adventurous and fun. At times her personality puts the family's connections at risk and even threatens their lives.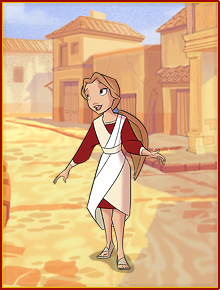 Rebecca is 8 years old and is Leah's older sister. She is Daniel's daughter and a brave rebel fighter in Galilee.
In Episode 1 she and her sister are looking for their father's friend Samuel. When they meet up with Samuel, he and his son bring the girls to their house. Diana at first is reluctant to the idea but her kindness changes her heart and she decides the girls will be able to join her family.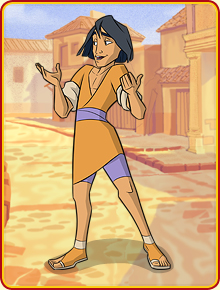 Macky is a courageous fourteen-year-old boy. His parents are Samuel and Diana. He is a great friend.
Like his father, Macky believes in the teachings of Jesus of Nazareth. Since the Romans would persecute any Christian, Macky had to keep his belief a secret. Macky is brave and refuses to give in to the Romans. "He dreams of freedom for all those harmed by Roman laws, and he's always taking part in adventures, daring rescues and secret missions, all designed to get his fellow rebels out of trouble. Above all, Macky is an idealist."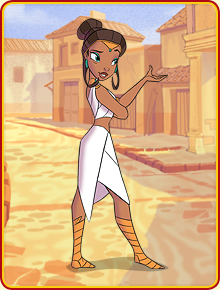 Portia is a 14 year old young lady member of the rich Roman family. "As a member of a rich Roman family, she's always had the best of everything-education,clothes,food, and culture."
She doesn't give much thought to the advantages she's had until one day she meets Macky and his family. She never thought that the Romans were wrong to invade other peoples' land and try to get them to pay extra tax. Portia lives with her uncle Tiberius (Governor of Alexandria) since her father is a senior Roman army commander and he is far away with his troops." Her uncle is no substitute for a caring father and Portia misses him - though she would never admit it." When she meets Macky and his family, Portia begins to gain an understanding of what she is missing and she starts to use her power to help others.
Friends & Heroes Productions Limited
Lough House
Approach Road
Ramsey
ISLE OF MAN IM8 1RG
Email
Main Site
My Homeschool Experience:
My 6 year old daughter and I enjoyed watching the Friends and Heroes DVD Episode 1 "Long Journey" and 2 "A Friend in High Places." Listening to the songs was a lot of fun. Together, we worked through the four kindergarten – 2nd grade Christian school lessons that correspond with these two episodes. The activities were easy to introduce and fun to complete. I started every lesson by asking her the "Key Questions." I used the questions to help my daughter connect her own experiences with the events in the lessons.
After our conversation, we would focus on the story and activities. She would read the Bible reference to me and then we would answer the questions pertaining to the Bible story. The first Bible story we discussed was Daniel in the Lions' Den. Since Daniel obeyed God regardless of the consequences, the next activity we discussed was "Who do you obey?" These questions led to some other thought-provoking questions such as talking about situations when she is not to obey an adult.
The program suggests some fun games to play. For example, she and I played the game "Simon Says" since this game is a good introduction to the concept of obedience. Trusting others was another concept taught. I was able to ask her who she trusts and why. Another question provided by the program was "How can you show that you can be trusted?" This lesson led to a very important conversation about not trusting strangers and "listening" to the Holy Spirit when she feels uncomfortable about any given person or situation.
Since she knew the story of Samson and Delilah, I decided she did not have to read the Bible reference. We discussed how Delilah betrayed Samson and how this act must of made him feel. After this conversation, we completed the Story Focus and Activity. We read Bible reference Acts 10:9-28 and discussed Peter and Cornelius.
I also placed a sheet on the floor and she and I

sat

around it. We placed pictures of people from around the world onto the sheet. I asked her questions like "How does the sheet on the floor link to Peter's dream? "What is God's message to Peter?" After the conversation I had my daughter complete the worksheet "My Friends." In this activity, she was to draw her friends on the "sheet."
My daughter and I really enjoyed watching Episode 1 and 2, listening to the music, and completing the assignments.
Overall Thoughts:
My daughter and I really enjoyed watching the DVD together. The movies were action packed and illustrated well. Of course, Portia was her favorite character. Every little girl wants to be a princess. We loved the Bible stories and the activities that corresponded with every episode. The discussions that derived from the movie were really interesting. The moral values were powerful and well-presented. We loved watching the DVD together and we would recommend it.
This product was given to me free of charge for review purposes.